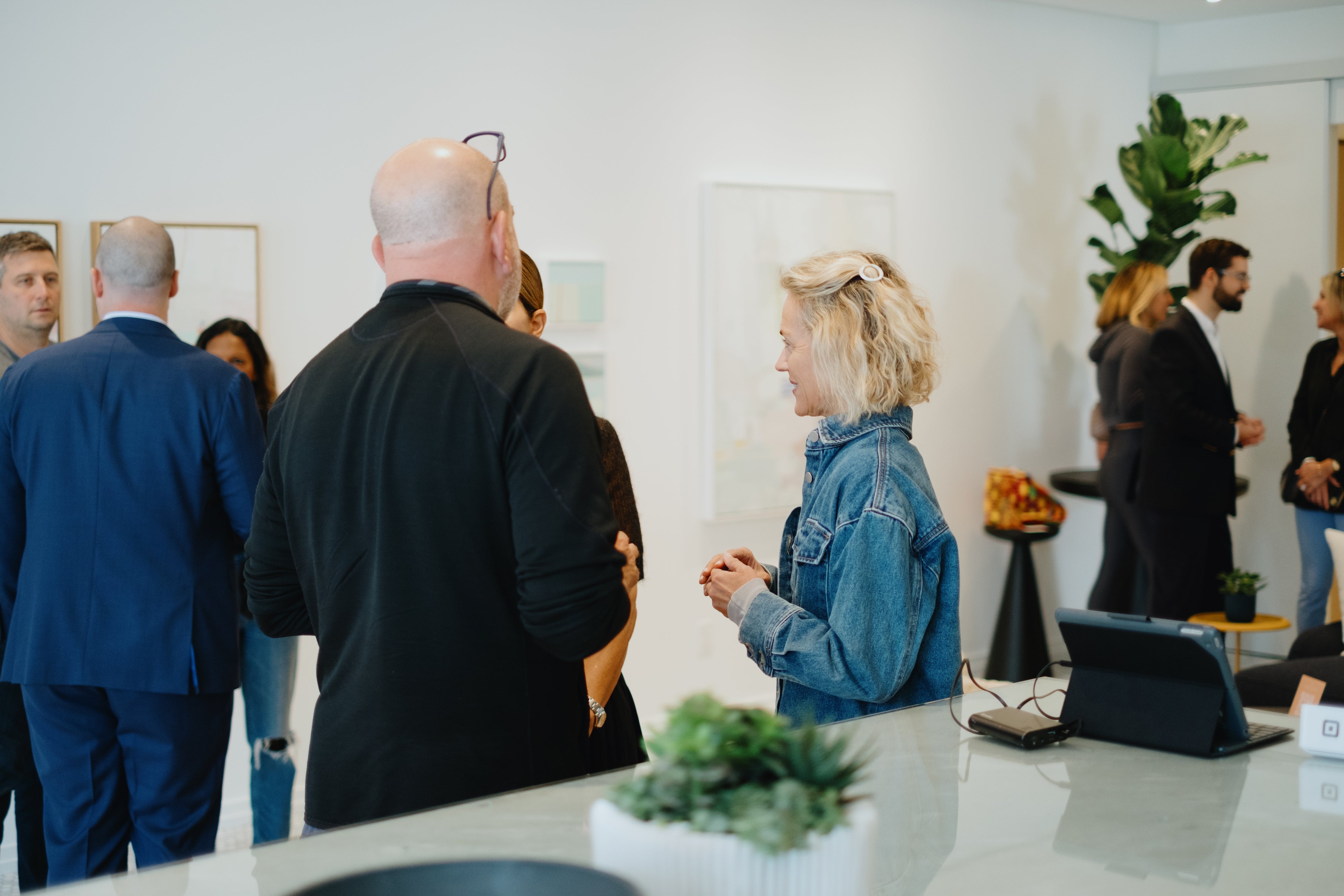 Join Us For
Events At The Lobby
Learning something new is both gratifying and invigorating. The Lobby will allow us to expand upon our ongoing HET webinar series and offer in-person educational sessions covering a variety of topics across multiple sectors. Stay tuned for our stellar line-up of industry experts and guest speakers who will host seminars, interactive panels, Q&A sessions and more.
Upcoming Events
Vessels + Sticks is a ceramic art gallery focused on presenting contemporary ceramic artworks by artists from around the world.
For the month of November (1 - 30), Vessels and Sticks is thrilled to be exhibiting on the 2nd Floor of The Lobby to allow the community to experience a broad selection of ceramic art, by Canadian and international artists, in person.

The gallery operates primarily online at www.vesselsandsticks.com, and the opportunity to complement the digital experience with the ability to touch, lift and view the artworks in person is essential. In addition, a physical space allows Vessels + Sticks to provide context and develop a narrative about the works that facilitates a strong sense of connection. It is for these reasons that the gallery is so excited to partner with The Lobby to be able to offer this experience.

Vessels + Sticks Founder, Jennifer Kerbel Poirier, will be onsite on the 2nd Floor during retail hours, for the month, to facilitate conversations, host talks, and help collectors, designers and all members of the community select and purchase ceramic artworks that they love.
December 1st - 10 - 6PM
December 2nd - 10 - 7PM
Immerse yourself in the festive spirit at The Lobby's Holiday Market, featuring a delightful mix of high-quality vendors, Halpern's pop-up wine bar, and complimentary festive cocktails from Dirty Devil Vodka.
Enjoy wine by the oz. or by the glass while you shop for everyone on your nice list.
Dirty Devil Vodka will be serving a complimentary festive cocktail from 4pm - 7pm on December 1st, and 12pm - 6pm on December 2nd.
Our wonderful list of market artisans include Imli, Luxton, Type Books, Jaxx & Marbles, and Vetiver.
Come explore our beautiful gifting options at The Lobby Holiday Market on December 1st & 2nd. Happy Holidays!
RSVP on Eventbrite.
Interested in Hosting Your Own Event at The Lobby?
Our warm and inviting space provides the perfect backdrop for any number of events and special occasions, including meetings of all sizes, speaker series, book and product launches, wine tastings and larger celebrations.
The Lobby
Testimonials
Emily Griffin from Imli Lifestyle "I just held a three day Pop Up in the light filled and airy upstairs event space at The Lobby and I couldn't be happier with the experience.  The location is bonkers good, the staff were hugely supportive and helpful and I made a tons of sales from walk in traffic - which was an added bonus.  I can't wait to do it again next year!"
Jules Cowan-Dewar and Jamie Trenholme from Cabot Management Company Ltd. "We recently had the pleasure of hosting an evening sales event at the Lobby. The space was warm, inviting and filled with conversation pieces.  Lisa and her team at Heaps Estrin took care of all the little details.  They even designed and deployed the invitations. They recommended Elle Cuisine and Bar Chef to cater the event and they delivered. They curated a great cocktail menu and the passed food and bowls presented beautifully throughout the evening. Lisa and her team ensured the décor and furniture fit and the evening went off seamlessly. We have already started discussing when we might do it again."
Michael Murphy from FOGO Island Workshops "The Lobby team was flexible, professional, and responsive in the face of an everchanging lineup of events we held in the space. Their high level of taste and network of catering and décor support made decisions easy. All that said, the reason we'll return is the genuine people whose passionate support of our work demonstrated that this was more than a transactional relationship."